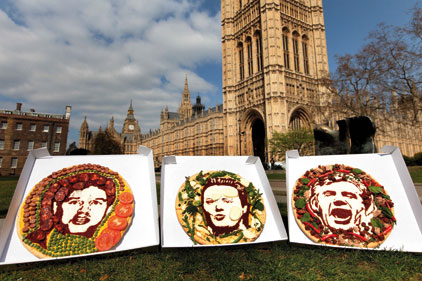 Working with Pizza Express head chef Antonio Romano, Unity created a 'political pizza portrait of Britain'.
The toppings include caviar, apparently representing 'the debate about class and equal opportunities', and dough balls to represent the national deficit.
These themes were informed by a YouGov poll commissioned by Unity to uncover the key issues facing the electorate.
The pizzas will be available at selected Pizza Express outlets for a limited time.
Unity co-founder Gerry Hopkinson said the agency's task was to create 'fresh brand engagement ideas that encompass media relations, brand innovation, experiential, digital social media and influencer marketing'.
As part of the same campaign, the agency produced pizza portraits of the three main political leaders, with ingredients representing their characters. The Gordon Brown pizza includes fiery chilli and ground beef, David Cameron is represented by cheese and rocket, while Nick Clegg's pizza features fresh tomatoes and spicy sausage.
Unity has developed a spin-off Twitter campaign and worked with the in-house team to deliver pizzas to the three main political parties, media and influencers.
Pizza Express has not had a retained PR agency for four years, but has used Unity and Frank for project work.
This article first appeared in
PR Week